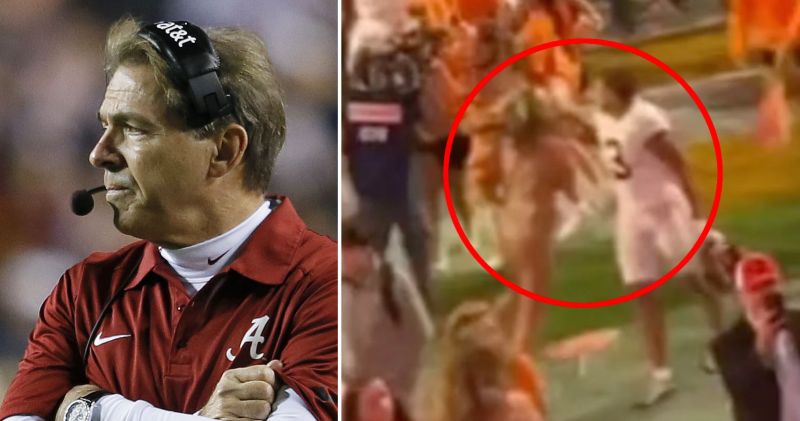 Alabama star's encounter with Tennessee fan goes viral (video)
Tennessee earned a hard-fought victory over Alabama last weekend.
In doing so, the Vols ended a 15-year losing streak against Nick Saban's program and established themselves as one of the top two teams in the SEC.
Due to the stakes, Tennessee fans were thrilled after the game. They immediately stormed the field, before the Alabama players could officially make their exit.
This led to a particularly delicate situation.
In a now-viral clip, many believe they saw Crimson Tide wide receiver Jermaine Burton hitting a Tennessee fan after the outing. The clip speaks for itself:
Jermaine Burton hits a girl in the head after the game pic.twitter.com/6DeqPYJ5WK

— Legends of Lindsey Nelson (@VolCreatures) October 18, 2022
Fan reaction poured in quickly:
Impossible. They are as pure as packed snow in all of Alabama. Clearly doctored video.

— Coach Bobby Finstock (@pugus1979) October 18, 2022
Just a bunch of sore losers

— hatedvolfan (@mantooth2019) October 18, 2022
I guess you're one of those "She had him come" guys.

—Dylan Smith (@dylsmith44) October 19, 2022
If it's legit…you need to turn it over to the proper authorities and have them investigated. He should end up at least being suspended for his actions.

— Dillon George (@dgtechllc) October 18, 2022
Worse still, Burton also found himself in hot water after the fact during a separate meeting with a fan:
Man did you see the first lol. He hit 2 people pic.twitter.com/mw8kisoxmu

— JDCVols (@jdccentral37) October 19, 2022
Yeah.
Burton finished with two receptions for 49 yards against Tennessee, but that's obviously not what people talk about after the fact. Time will tell if the Crimson Tide addresses these videos in any capacity.
The fans were on a different level last Saturday. A Vols fan was clapping so hard her shirt flew off. Another found her own unique way to leave an impression.
And Alabama fans were treated pretty badly afterwards.
That being said, players getting their hands on fans is next-level stuff.
Ouch Russell Wilson. https://t.co/vTv0Vo8OJI

– Game 7 (@game7__) October 18, 2022
Someone should answer for these videos.
Will Nick Saban do it at some point this week?
Time will tell us.
Related: Malika Andrews' Warriors spark controversy (video)