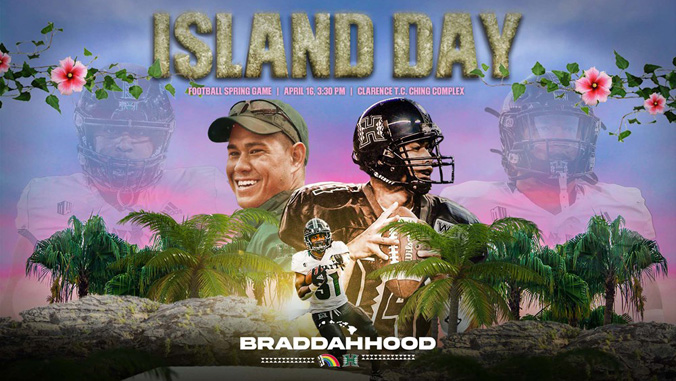 Public invited to UH Football Spring Game and Celebration
University of Hawaii Football fans are invited to join the 'Braddahhood' and cheer on the Rainbow Warriors during the 2022 Island Day Football Spring Game at the Clarence TC Ching Athletic Complex on Saturday April 16th. New head coach Timmy Chang thanks the fans for their overwhelming support in making the final spring practice scrimmage a community celebration. The FREE event at the Athletics Complex is open to the public and will include kids' activities, food trucks, beer gardens, vendors and live entertainment (more info below).
"It's basically a party atmosphere. I want this place filled. I want this place to be loud and come and have fun with our soccer boys," Chang said. "They worked all spring. They can't wait to see you, come and liven up this place.
Doors open at 3:30 p.m., entertainment at Les Murakami Stadium begins at 4:15 p.m., kick-off is at 6 p.m. followed by an autograph session with Coach Chang and the Rainbow Warriors. Please plan accordingly. Arrive early, anticipate busier than normal traffic and respect the surrounding neighborhoods. Parking is $5 for admission and will be available on a first-come, first-served basis in the Sports Parking Complex and Upper Campus (more info below).
Information on parking, carpooling and drop-off
Main parking lot (Zone 20)—Game day parking will be available within the structure in area 20 (entrance at the gates of Dole St. or Waialae Ave.)

Parking can be purchased on the day of the event (Saturday, April 16) at the parking booths located near the entry point at the gates of Dole St. or Waialae Ave.
Parking can be pre-purchased online for $5 until Thursday, April 14, 2022 at 6 p.m.

Alternate Parking (Upper Campus)"There are two entrance gates to Upper Campus; Maile Way and East West Road. Parking can be purchased at the kiosks at the entrance for $5 on game day. Please follow all parking lot guards and staff instructions as they help direct fans to upper campus grounds
Carpool and return—For those using the rideshare options to get to campus, drop-off and pick-up is located on Lower Campus Road across from the Center for Disability Studies (across from the Stan Sheriff Center) via the Dole St gates .or Waialae Ave. . Carpooling is strongly encouraged due to limited parking spaces
Booths will be occupied from 12:30 p.m.
Plan for the parking lot as well as the sanitary facilities which will be unlocked (PDF)
2022 Island Day Football Spring Match
Clarence TC Ching Athletic Complex
Concession stands & food trucks:

Sodexo Catering Services
Various food trucks

Beer gardens available in the Ewa and Diamond Head ends of Ching Field
uh H-Zone Bookstore and Apparel – Located in the Ewa end zone behind the Manoa Maniacs student section bleachers
5:15 p.m. – Rainbow Warrior football team warm-up
6 p.m. to 8 p.m. – Spring football game (greens vs. whites)
8:30 p.m.—FREE autograph session at Ching Field
"BowZone" at Les Murakami Stadium
Sodexo food and beverage services and outdoor cafes located on the main lobby level
Deposit of corporate partners offering prizes and games to fans
3:30 p.m. to 5:30 p.m. – FREE bouncy houses and activities for keiki

Located on the third base side of the baseball field
Enter the field from the lower level section J located on the third base side of the stands

4:15 p.m. to 5:15 p.m.—FREE entertainment!

Fans are encouraged to enjoy entertainment from seats or lobbies at Les Murakami Stadium
No access to the field will be allowed for entertainment

5:30 p.m.—The BowZone at Les Murakami Stadium closes for the spring football game. Fans will be asked to relocate to the Clarence TC Ching Athletics Complex for the Island Day Football spring game
Local vendors (located in front of the Athletics Department between Murakami Stadium and Ching Athletics Complex
Opening hours: 3:30 p.m. to 5:30 p.m.
Things to know before participating
Tailgating is NOT allowed
Empty Bag Policy—The University of

Hawaii

has adopted a see-through bag policy to improve public safety at our facilities. Entrants may bring one (1) clear bag no larger than 12″ x 6″ x 12″ and are limited to one clear bag per person
Prohibited objects

All bags (except clear plastic bags which do not exceed 12″ x 6″ x 12″)
Weapons
noise makers
Illegal drugs
Reusable bottles (i.e. Hydro Flask, Takeya, Yeti, Thermos, etc.)
Umbrellas
Chillers
Fireworks
Alcohol
Pets (except service animals)
helium balloons
Food and drinks outside
Tripod and monopod extended on the ground
laser lights
Tobacco products
Seat backs
Strollers
All equipment for cooking on campus (hot pot, hibachi, grill, etc.)

Outside food and drink is NOT permitted.
COVID19 vaccination or negative test is NOT required
Masks and face coverings are optional