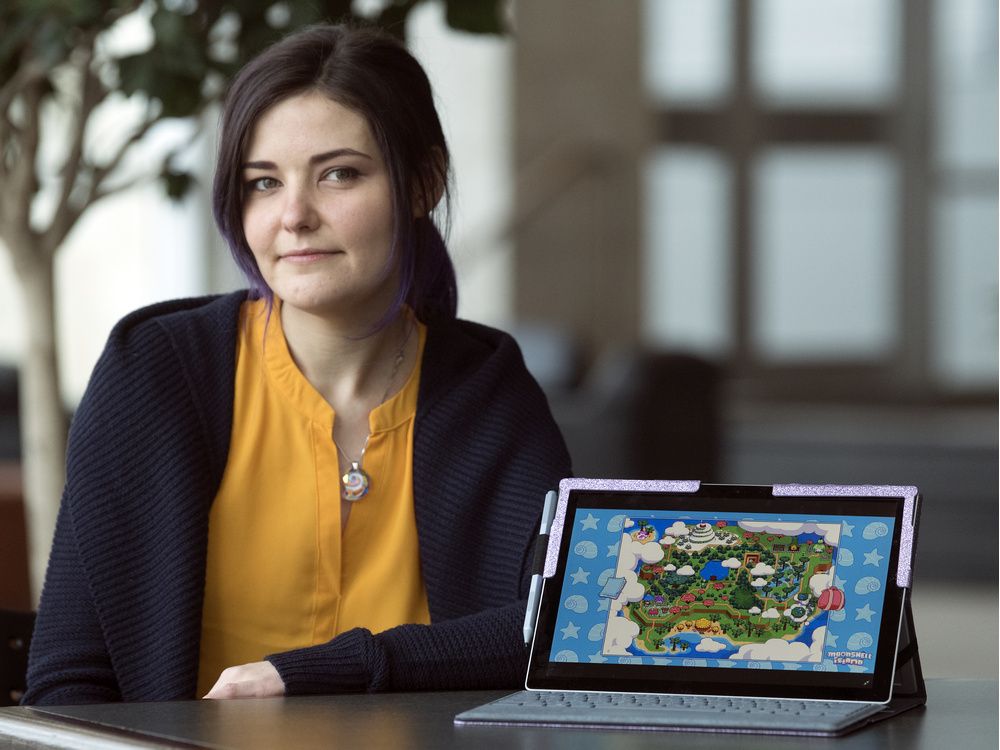 Regina video game studio gets $20,000 development grant
"It's exactly what I need to give this dream the best possible chance of success," said studio founder Samantha Ramsay.
Content of the article
Regina Video Game Studio Cheekynauts Entertainment celebrates a much-needed boost, as one of many studios selected for a new grant aimed at supporting independent developers in Canada.
Content of the article
CEO, Founder and Lead Concept Artist, Samantha Ramsay is the driving force behind the small independent studio, one of many forging its way into Saskatchewan's ever-thriving gaming industry.
She is delighted to be part of the first round of the Baby Ghost grants and accelerator program, offered by the Weird Ghosts impact fund, in partnership with Toronto-based developer co-op Gamma Space.
"I'm thrilled to have this opportunity and excited to move forward with my studio," Ramsay said in an email to The Leader-Post.
The grant will provide $20,000 in unrestricted dollars to continue the development of the studio, alongside a four-month program providing skills development and mentorship connections.
"I can't stress enough the value of all of this when all you want to do is make a game and you have no business experience," Ramsay said.
Ramsay's plans are already set, and the main focus will be on the studio's current project, a dreamy action-adventure role-playing game titled Moonshell Island.
Preliminary concept development began in 2018, with a basic teaser of the game made available to backers in 2020.
Progress has slowed lately, Ramsay said, as the studio's three-person team only works part-time on the passion project.
"The high-level concept is there, but a lot of the core elements of the game haven't been implemented yet," Ramsay said.
This infusion of new funds will allow Ramsay to increase the time she devotes each week to studio development and provide mentorship to introduce publishers, build marketing and deepen relationships.
Content of the article
Plans also include bringing a new programmer to the team, who will dive in to develop the current teaser into a polished public demo.
"We're going to gain momentum very soon," Ramsay said. "It's going to be an intense four months, but that's exactly what I need to give this dream the best chance of succeeding."
Ramsay said the grant gave him "newfound confidence" to deliver a polished public demonstration of Moonshell Island very soon.
For Cheekynauts, a completed demo means more opportunities to attract interest from investors and publishers, to maintain momentum towards the game's current target release date of 2025.
"We will be better equipped to negotiate full project financing with greater clarity and confidence," Ramsay said.
While Ramsay feels lucky to be the recipient of a significant investment, she also agreed that seeing grants go to small studios like Cheekynauts shows there are eyes on game developers in the game. Saskatchewan.
"I think that says there's talent here, but our opportunities have so much room for growth that a lot of us are spinning our wheels trying to get started," Ramsay said.
Funding and mentorship opportunities can be difficult for small independent studios without a commercial presence to land or be restrictive in how they disburse funds.
She said a dedicated provincial grant that follows a similar framework to the Baby Ghost program would be a huge boost to support Saskatchewan developers.